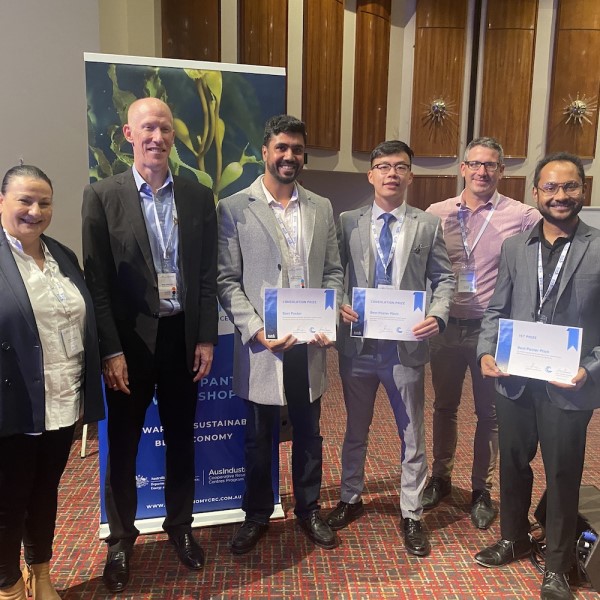 Australia's ability to manage coastal and offshore waters for sustainable food production has been boosted with new data and imaging research that could enhance our aquaculture operations.
University of Queensland PhD student Avik Nandy bagged the best poster and best presenter awards at the Blue Economy CRC Participants Workshop held in Tasmania last week for his work linking satellite and drone imageries with in-situ data to monitor water quality.
"It is crucial that Australian waters need to be examined more carefully using the power of earth observation satellites and automated processing towards nation-wide water quality monitoring to guide the sustainable utilisation of coastal and offshore waters," Avik said.
"It is an amazing opportunity to communicate and educate a broader audience and not just the world of academia, which will have a strong environmental impact and measurable benefits."
Supervised by Dr Simon Albert and Dr Alistair Grinham in the School of Civil Engineering as well as Professor Stuart Phinn in the School of Earth and Environmental Sciences, Avik wasn't the only UQ student to be recognised at the workshop.
Yuan Zhen Cai and Akshay K.A. Harikumar were both runners up for the presenter and poster awards, respectively, and supervised by Dr Michael Heitzmann in the School of Mechanical and Mining Engineering.
Blue Economy CRC program leader for offshore engineering and technology Professor Chien Ming Wang said these students are not only exemplars for the Blue Economy CRC PhD scholars but their cutting-edge research achievements are important to the growth of Australia's aquaculture and offshore renewable energy industries.
"Akshay's work on collar ties has improved the robustness of fish pens against wave action while Yuan Zhen's research on composite materials for power take-off system will lead to better fatigue performance of Carnegie Clean Energy's mooring tensioner for usage in wave energy converters," Professor Wang said.
The Blue Economy CRC brings together 43 industry, government, and research partners from ten countries with expertise in aquaculture, marine renewable energy, maritime engineering, environmental assessments and policy and regulation.