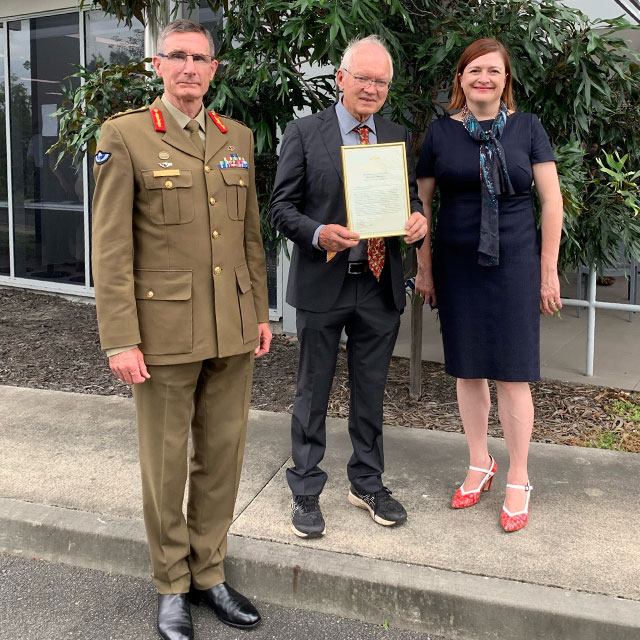 A lifetime of dedication to hypersonics research and education has earned The University of Queensland's Professor Richard Morgan the Chief Defence Scientist's Gold Commendation. 
Prof Morgan, the founding director of the UQ Centre for Hypersonics, and a professor at the School of Mechanical and Mining Engineering, was recognised for his extensive research in the field of hypersonics, advanced ground test facility development and commitment to mechanical and aerospace engineering education. 
Lauded as a world-leading authority in the development and operation of advanced hypersonic test facilities in the form of shock tubes – which enable ground aerodynamic testing at true hypersonic and super-orbital speeds– Prof Morgan was also recognised for his contributions to the UQ Centre's partnership with the Defence Science and Technology Group (DSTG).
He received the Gold Commendation at the official opening of the new $14 million DSTG Hypersonics Research Precinct (HRP) in Brisbane attended by Defence Minister Peter Dutton, Defence Force Chief General Angus Campbell and Chief Defence Scientist Professor Tanya Monro. 
"The award is a recognition of the UQ environment that enabled me to have a career in education and research, and the generations of students and colleagues who have carried me on their shoulders for more than 40 years," Prof Morgan said. 
He has been a fulltime researcher and academic since 1977, after completing a DPhil in Hypersonics at Oxford University. He subsequently worked on solar energy research in Wales and Malaysia before emigrating to Australia in 1980. At UQ he has worked on developing superorbital ground based facilities for many years, and has collaborative research programs with NASA, ESA, Oxford University, Ecole Centrale (Paris) and the Asian Office of Aerospace Research and Development.
"The great opportunity of my career came when I joined the legendary Professor Ray Stalker, (developer of the free piston driven shock tube concept now universally known as 'Stalker Tubes') in 1980 at UQ to work on Australia's first scramjet program as an ARGS (ARC precursor) funded research fellow," Prof Morgan said
"In the mid 80's I worked on the development at UQ of a more powerful Ray Stalker-designed Stalker tube, T4, specifically configured for Scramjet testing, and which has to date performed more scramjet tests than any other facility in the world, and which remains a mainstay of the UQ based Hypersonics research program.
"From 1990, following the demonstration by Ray Stalker and UQ's Allan Paull of the value of applying the free piston technique to expansion tubes, I extended my activities to include super orbital expansion tubes, which led to the development of the 'X' series of facilities which have become another trademark of the UQ Centre for Hypersonics."
Expansion tubes are an extension of the shock tube concept whereby several tubes can be cascaded together in series to produce higher speeds, representative of those experienced in return to Earth from outer space. This process culminated in the commissioning of X3, the largest of the series in 2002.
His work educating the next generation of hypersonics researchers is also a career highlight – he initiated the Mechanical and Space Engineering degree at the University of Queensland in 1993, a precursor to the current popular Mechanical and Aerospace Degree.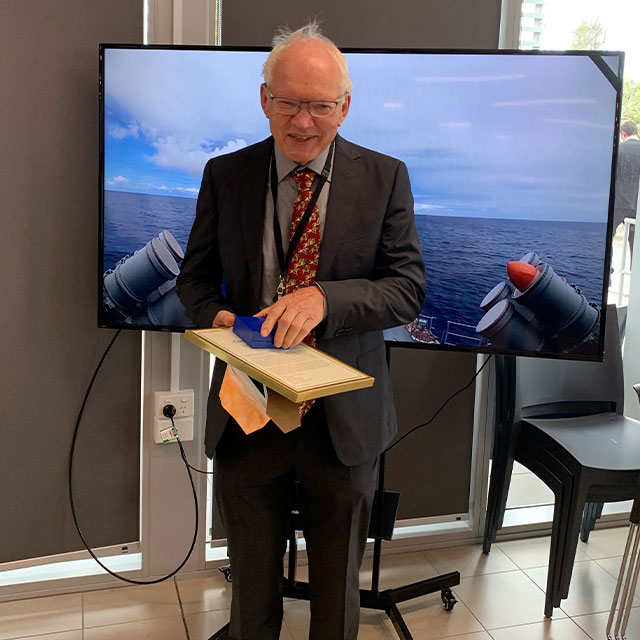 "I believe that the large number of graduates that have passed through our group in my time represent a great resource to the nation, which will contribute significantly to developing and maintaining high technology industries in Australia," Prof Morgan said. 
As the founding director for the UQ Centre since its inception in 1997 until October 2021, Prof Morgan has also witnessed numerous milestones advancing hypersonics research. 
"The Centre has grown to be one of the biggest and most respected university-based research groups in hypersonics worldwide, and is involved in many multinational and local projects. It has provided the bulk of the graduates involved in hypersonics research and industrial development in our country," he said. 
"The success of the Centre has been outstanding and included the world's first successful flight tests of supersonic combustion in the HyShot program, and involvement in the equally successful HyCAUSE, HiFIRE and SCRAMSPACE programs, and the award to members of the Centre of the prestigious von Karman Award for International Cooperation in Aeronautics in 2012 for the HiFIRE program."
In 2017 Prof Morgan became the first non-US based scientist to have received a hypersonic systems and technologies award from the American Institute of Aeronautics and Astronautics. In 2014 a joint UQ/DSTG initiative led to the modification of UQ's X3 expansion tube to include a reflected shock tunnel operating mode known as X3R, which has been relocated to the HRP and now forms a centrepiece of the laboratory at Eagle Farm. 
This large facility provides increased test time and operating envelope combinations over other facilities in Australia and is playing an important role in the testing of flight sized hardware.
UQ's Centre for Hypersonics, is an integral partner for DSTG's new research precinct, which will provide a location for researchers to advance understanding and use of hypersonic technology through flight and ground testing of prototype vehicles.