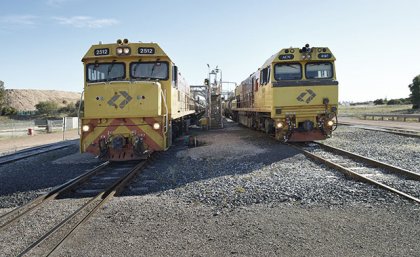 The University of Queensland has teamed up with Australia's largest rail freight operator, Aurizon, on a research project to help reduce the carbon emissions of the company's locomotive fleet.
The project will investigate how new-generation battery and green hydrogen fuel-cell technology could be used to replace the current diesel-powered engines and power the rail network.
Locomotive mechanics expert Professor Paul Meehan from the School of Mechanical and Mining Engineering said the research would help outline a transition plan for the rollout of the emerging technologies and gauge the impacts on heavy transportation industries.
"Together with Aurizon, this project will advance our knowledge and understanding of battery and hydrogen technology, specifically the application of these technologies in the Australian heavy haul rail industry," Professor Meehan said.
"It is a unique opportunity to design new and future solutions to decarbonise a major transportation industry and reduce the impact of climate change."
Professor Meehan said the research would examine Australia's 33,000 kilometre rail network to assess the energy and power requirements for specific rail corridors where Aurizon operates, identifying the technology that would help meet those requirements, and analyse how the technology could be implemented.
UQ's Dr Ruth Knibbe, an energy generation and storage expert, said the project would also examine how battery and fuel cell technology needs to be developed into the future to meet the need of heavy industrial vehicles.
"In addition to mapping the specific requirements for large industries, the complex and large-scale 'refuelling' infrastructure will be assessed for both battery charging and hydrogen refuelling and storage," she said.
Aurizon Head of Asset Management and Strategy, James Petty, said the research was an important foundation for delivering on Aurizon's decarbonisation targets.
"We need to define the specific energy requirements for mainline operation of our trains, and how the emerging technologies in batteries and hydrogen fuel cells can deliver that in practical terms," Mr Petty said.
"This collaboration will allow UQ to further develop their extensive knowledge in the battery-hydrogen space, while also providing Aurizon with key information required to help support the goals established in our 2020 Climate Strategy and Action Plan."
Mr Petty said the UQ study was one of several key initiatives being pursued by Aurizon to decarbonise its operations and supply chains.
Recently, Aurizon and Anglo American announced a feasibility study to explore the application of hydrogen fuel cell and battery hybrid power units in heavy haul freight rail operations.
Results from UQ's first project are expected in 12 months.
Media: Professor Paul Meehan, meehan@uq.edu.au, +61 7 3365 4320; Elizabeth Rennie, e.rennie@uq.edu.au, +61 431 673 443.