The University of Queensland's Mechanical Testing Laboratory, a leading facility for conducting material mechanical properties testing, has recently earned the National Association of Testing Authorities (NATA) accreditation, further strengthening its performance as high-quality testing facility. 

The laboratory provides a range of mechanical tests for industry to evaluate the performance of different materials, such as rock, under various conditions, including compressive strengths, stiffness, shear strength, and tensile strength. 
Tests such as these are crucial in the mining sector to assess slope stability and underground mining excavation stability, as well as in the civil engineering industry to assess the stability of remaining walls and tunnelling. Director of the lab, Dr Zhongwei Chen said the accreditation is a significant milestone in UQ's commitment to delivering high-quality results to the community. 
"We are thrilled to receive NATA accreditation, as it provides a structured and reliable framework for the quality of results, ensuring traceability, comparability, and validity – which in turns provide confidence in our clients.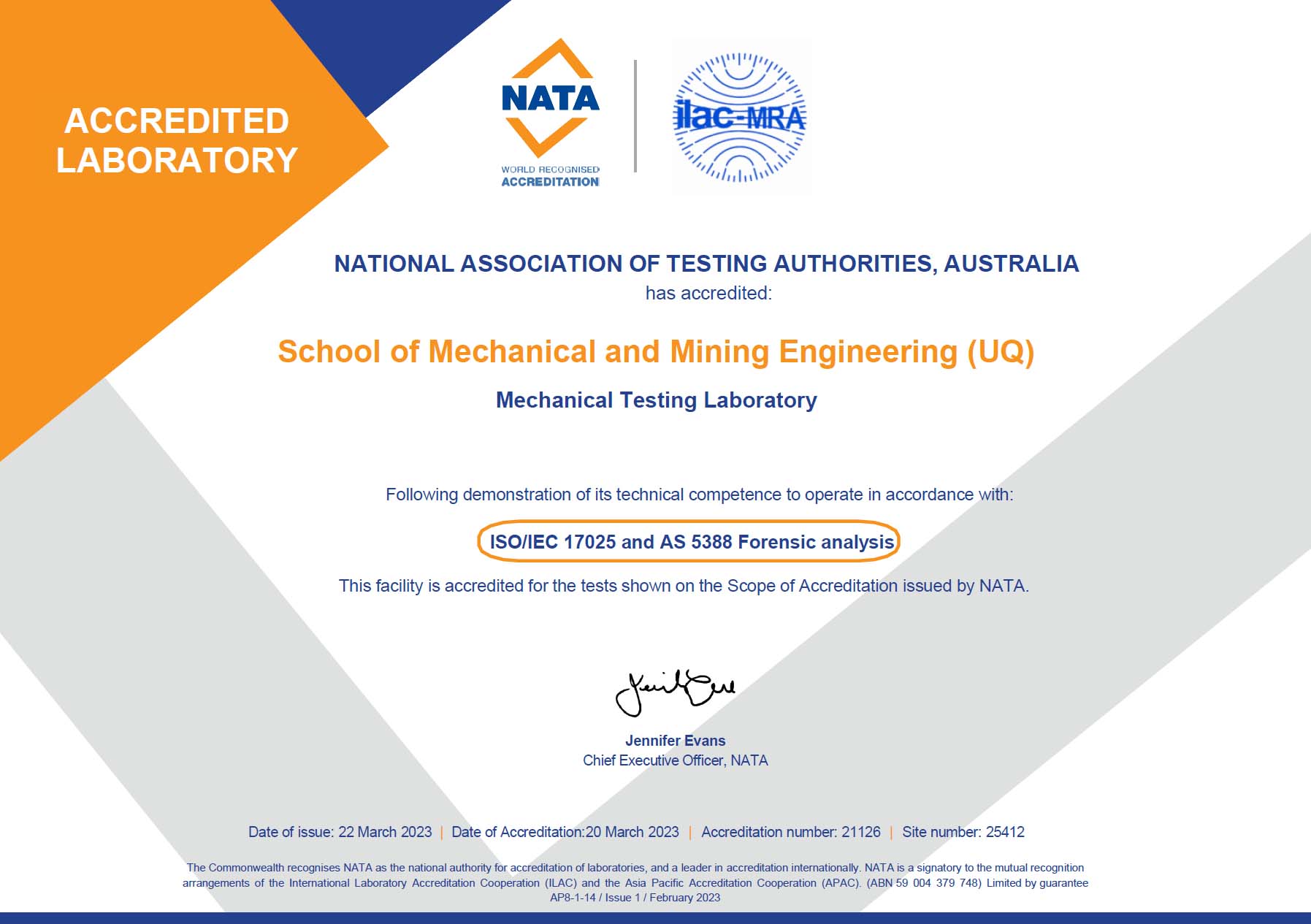 "The accreditation also strengthens UQ's engagement with industry and enables us to offer expertise at a new level," Dr Chen said.
The laboratory has strong partnerships with several industry leaders who use its facilities, including BHP, Rio Tinto, Anglo American, Newcrest, Glencore, Origin Energy, Arrow Energy, and Santos. 
Brian Vorster, Principal Geotechnical Engineer from Glencore Australia, commented on the importance of the accreditation. 
"The NATA accreditation provides assurance that any rock sample testing undertaken by the facility is to the highest quality and the results of these tests can therefore be used all over the world with confidence," said Mr Voster.

The laboratory looks forward to expanding its network of industry partners and continuing to advance the field of material mechanical properties testing.

For more information, please contact:

Dr Zhongwei Chen, Director, Mechanical Testing Laboratory
The University of Queensland
Phone: +61 7 3365 3742
Email: zhongwei.chen@uq.edu.au