University of Queensland final year student Justin Clarke is bound for Oxford University after being named Queensland's 2021 Rhodes Scholar.
The former AFL player will graduate in December from a dual program with a Bachelor of Engineering (Honours) (Mechanical and Aerospace Engineering) and a Bachelor of Science (Mathematics).
Mr Clarke focused on his studies after he was forced to retire from the AFL Brisbane Lions in 2016 due to injury.
"After my football career ended on medical advice following a severe concussion, I began studying aerospace engineering, a discipline I am passionate about and in which I want to make a difference," Mr Clarke said.
"Hypersonics is an area of active aerospace research which can radically change the way we travel around the world and improve access to space."
Mr Clarke plans to undertake a Doctor of Philosophy (DPhil) Engineering Science at Oxford's Thermofluids Institute modelling hypersonic pulse tunnels.
As an engineering intern at Boeing Defence Australia, he has experience across the full systems engineering lifecycle.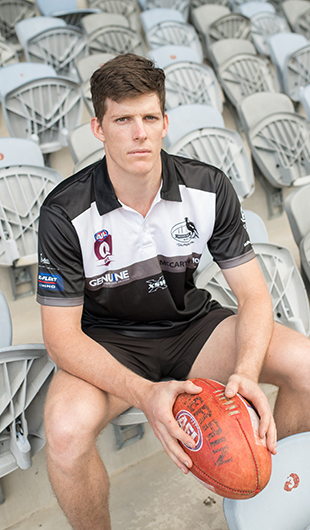 While on summer placement with Australia's Defence Science and Technology Group gave Mr Clarke experience in researching active vehicle blast protection, which solidified his desire to pursue a research career.
Mr Clarke has been a consistently high achiever, receiving many Dean's Commendation for Academic Excellence while at UQ, adding to his awards during high school.
His sporting career is equally impressive – 56 senior AFL games, part of the winning 2017 Queensland State Rowing Championship Men's 8, and a fast bowler for the Surfers Paradise Cricket Club First XI.
He is also currently an assistant coach for the Western Magpies where he focusses on developing young key position players with their game knowledge and body positioning in aerial contests.
From 2016 he has been an ambassador for UQ's Queensland Brain Institute, a role which involves promoting concussion awareness, recruitment of study participants, as well as being a study participant himself.
There are two other UQ graduates in the running for Rhodes Scholarships – Jane Hall (Law) and Kailin Graham (Chemical Engineering) will be part of the 'Australia at Large' selection process.
You can hear more about how Justin Clarke tackled concussion head-on in the ChangeMakers podcast, or read about it in the ChangeMakers article.
Media: UQ Communication, communication@uq.edu.au, +61 7 33651120, +61 429 056139.