New technologies for a next-generation hybrid rocket that will launch small satellites into low-Earth orbits from 2022 are being developed in Queensland, thanks to a partnership between University of Queensland researchers and Gilmour Space.
An Advance Queensland Industry Research Fellowship grant has been awarded UQ's Dr Ingo Jahn to work with Gold Coast-based Gilmour Space on propellant feed systems and cycles for space launch vehicles.
Dr Jahn said having researchers and industry work closely together was invaluable for Australia's space industry.
"Rather than buying products from overseas, the rockets and components will be manufactured in Australia, and this is an essential step towards developing a space launch vehicle industry in Queensland with many expected flow-down benefits to our manufacturing industries," Dr Jahn said.
The UQ team is focusing on developing and validating the fuel feed system, which must meet the stringent control and performance requirements of the launch system, while also remaining as light as possible.
"Fuel delivery systems for rockets are one of the most complex engineering challenges," Dr Jahn said.
"They are located at the intersection of multiple systems; to stay light they have to be incredibly power dense, they must operate across wide temperature and pressure ranges and they are safety critical.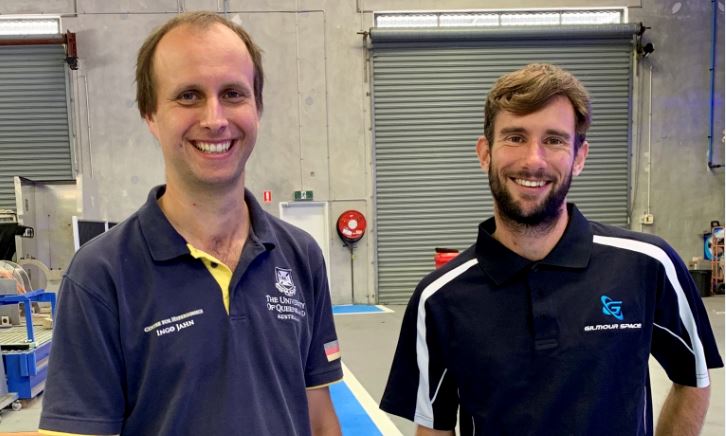 UQ Deputy Director of the Centre for Hypersonics Dr Ingo Jahn with PhD student Joshua Keep at the Gilmour Space factory in Helensvale, Queensland.
---
"Finding effective and safe engineering solutions to meet all these requirements, while remaining light weight is the challenge we have to overcome."
Gilmour Space is at the forefront of the development of next-generation hybrid rocket technologies that are safer and more cost-effective than traditional chemical-propulsion rockets.
Chief Operating Officer and company co-founder James Gilmour said 2020 would be a busy year for the group as it developed and tested the various rocket systems in the orbital launch vehicle.
"We're grateful to UQ and the government for supporting our efforts to grow a space launch industry here in Queensland," Mr Gilmour said.
To support the project, the Advance Queensland grant will fund another PhD researcher at UQ for three years, providing a rare opportunity for knowledge transfer and on-the-job training with a leading space company.
"This is an excellent opportunity as it allows know-how and fundamental research conducted at UQ to be transferred to an application of national importance," Dr Jahn said.
"Seeing your research adopted into a product is the dream of every researcher and engineer - what could be better than seeing your research fly to the stars?"
Media: Dr Ingo Jahn, i.jahn@uq.edu.au; Michelle Gilmour, Gilmour Space, michelle.gilmour@gspacetech.com, + 61 433 908 084; UQ Communications, g.worrell@uq.edu.au, +61 408 432 213.